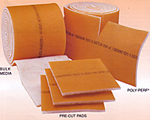 A particulate air filter is a device composed of fibrous materials -- such as DustLok Gold with Spor-Ax Antimicrobial polyester media -- which removes solid particulates such as dust, pollen, mold, and bacteria from the air. Filters are used in residential, commercial and industrial filtration systems, such as apartments, malls, banks, restaurants, office buildings, schools and hotels.
"The Best Filters Come From The Best Media"
DustLok provides the highest quality level of filtration. Our air filters keep coils and fans clean, maintain a cleaner environment, and offer improved air quality.