Packaged Terminal Air Conditioners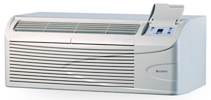 Whether you are designing a new structure or replacing package terminal air conditioner (PTAC) units in an existing building, our GREE GA Series PTAC Units will meet your needs. The efficient GA Series can significantly save you money on utilities and offers a unique fresh air vent system that provides up to 65 cubic feet per minute of fresh outdoor air into the living space.
Our advanced technology products deliver superior comfort for a variety of applications:
Hotels & Motels
Nursing Homes & Assisted Living Care Centers
Offices
Apartments
Single-Family Dwellings
Home Conversions & Residential Add-ons
No Retrofit Kit Required! GREE PTAC units easily fit the following sleeves/grilles: Carrier, GE, Amana, Trane, Friedrich and Bryant. No accessory retrofit kit is required.
All units use ozone-friendly R-410A refrigerant and are UL certified.